Starting in July, ACTION United is going to be sending out a monthly newsletter that recaps everything we've done in the past month. This way, we can keep the community updated on new initiatives and political/social campaigns that matter to you, as well as how our current work is evolving. To get updated on what we have been campaigning for, visit 
http://actionunited.org/
Early in the month, ACTION United, along with our allies, stormed our state capitol in Harrisburg to demand that the 2016 PA budget fully funds our schools. Parents, teachers, and faith leaders joined forces and met with our legislators to talk to them about the needs of our communities here in Philly.
Our actions were successful as Governor Wolf vetoed the proposed Republican budget, which would have not taxed Marcellus shale (a huge revenue stream for our schools) and that did not fund our district enough to get it out of its deficit.
Members with ACTION United met our State representatives and explained the need for additional funding in our school district and for specialized support programs. We also enlightened them on our
community schoo
ls
initiative.
However, our work is not done yet. Republicans in our state capitol, influenced by multi-billion dollar special interest groups have stalemated on passing a valid budget. This is something that is still affecting everyone in PA
right now.
To read news coverage on what we did there, visit our news page here.
To read more on the PA Budget stalemate, read this article.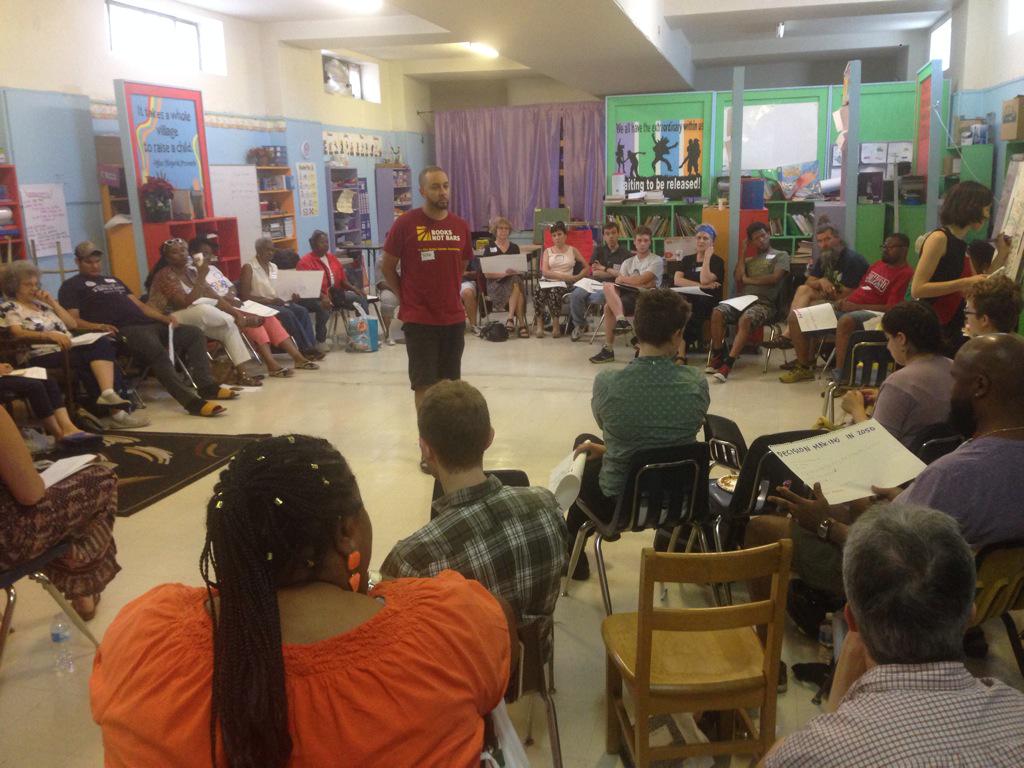 As Philadelphia gears up to be the
next energy hub
for the US
, ACTION United is on the forefront to make sure that low to moderate income, black and brown families are involved in the decision making process. The results are already out on refinery expansion in our city. Refinery pollution accounts for an overwhelming 72% of the air pollution in our city, producing an insane 700,000 pounds of air emissions that include Ammonia, Hydrogen Cyanide, and Sulfuric Acid.
Perhaps the worst part of this is how it is affecting our children, with 22% of Philadelphia's kids suffering from asthma.
The refineries and the pollution they produce disproportionately affect low income black and brown families. Of the 45,000 residents living one mile of the refinery, 71% of them are people of color and 32% live below the poverty line. This systematic destruction of our homes, health, and the well-being of our children must come to a stop.
On Saturday, July 18th ACTION United in conjunction with the JustGreen Philadelphia coalition held it's first workshop/training event in South West Philadelphia. There, environmental experts spoke on Philadelphia's environmental problems, and went into what residents here could do in order to fight back the expansion of dirty energy in our city. By providing the tools and knowledge for our community to empower itself, we are ensuring that wealthy developers and energy tycoons do not further destroy our homes and families.
To learn more about how the new energy hub threatens Philly, read more.

Saving Smith School
Two years ago we lost one of Philadelphia's most beloved schools, the Walter G Smith School at 19th and Wharton. We fought to keep it open, but a lack of funding caused it to shut down.
Last year the Philadelphia Inquirer reported on the closing and selling of the Smith School to the Concordia Group, a multi-million dollar developer instead of transforming it back into a school. Right now, there is debate in the zoning commission whether the structure can be transformed into high cost apartments that the surrounding neighborhood can not afford.
On July 18th, members of ACTION United held a rally in front of the old Smith School building, demanding that it be turned back into a school instead of catering to the profits of wealthy developers.
Read more on the Concordia group developing in Philadelphia Here.
Pittsburgh News
In May, Philadelphia Paid Sick Days went into effect across the city due to ACTION United and our coalition's support on the issue. Right now, the same battle is taking place in Pittsburgh, and ACTION United members want to make sure that sick workers get the right to call out and not threaten the health of their coworkers or those that they are servicing.
On July 7th, ACTION United made a stand at the Pittsburgh City Council and advocated for Paid Sick Days. There, members of ACTION United explained the hardships that occur when a parent is unable to stay home with a sick child or family member. For low to moderate income families, a missed day of work often means the inability to pay bills at the end of the month.
On top of our political advocacy, ACTION United also hit the streets to spread the word about paid sick days to people in the Pittsburgh community in order to drum up support and make Paid Sick Days a reality there.
To read news on Pittsburgh Paid Sick Days, click here.
To learn more about Paid Sick Days, click here.
Penn Plaza and Affordable Housing
ACTION United has always cared about affordable housing and making sure that our members are not victimized by unfair housing requirements or restrictions. Earlier this month, Penn Plaza owners, the Gumberg family, handed out 90 day eviction notices to nearly 500 people living in Penn Plaza with out giving any alternatives to affordable housing. This practice of putting profits over the elderly, children, and working families could not stand.
ACTION United along with our allies turned out over 250 people to urge Pittsburgh's mayor Bill Peduto to rescind the eviction notices. We were partially successful, and on July 18th the mayor enacted a 60-day stay agreement, giving residents in Penn Plaza an extra 2 months to figure out other housing arrangements. The fight is not over, as Pittsburgh Director Bill Bartlett stated to the news: "This is not happening in isolation. Involuntary displacement of folks of color out of the city is a recurring trend"
We will continue to fight for the residents of Penn Plaza until fair housing arrangements are made for the residents required to move.


To learn more about Penn Plaza, watch the video below:
To read more about Penn Plaza and the Mayor's decision, click here. 
For more information on any of the campaigns, contact WesternPA@actionunited.org.

If you missed an event, you can find pictures of them on our Tumblr @ http://actionunited.tumblr.com/