Pittsburgh
Victory at Penn Plaza!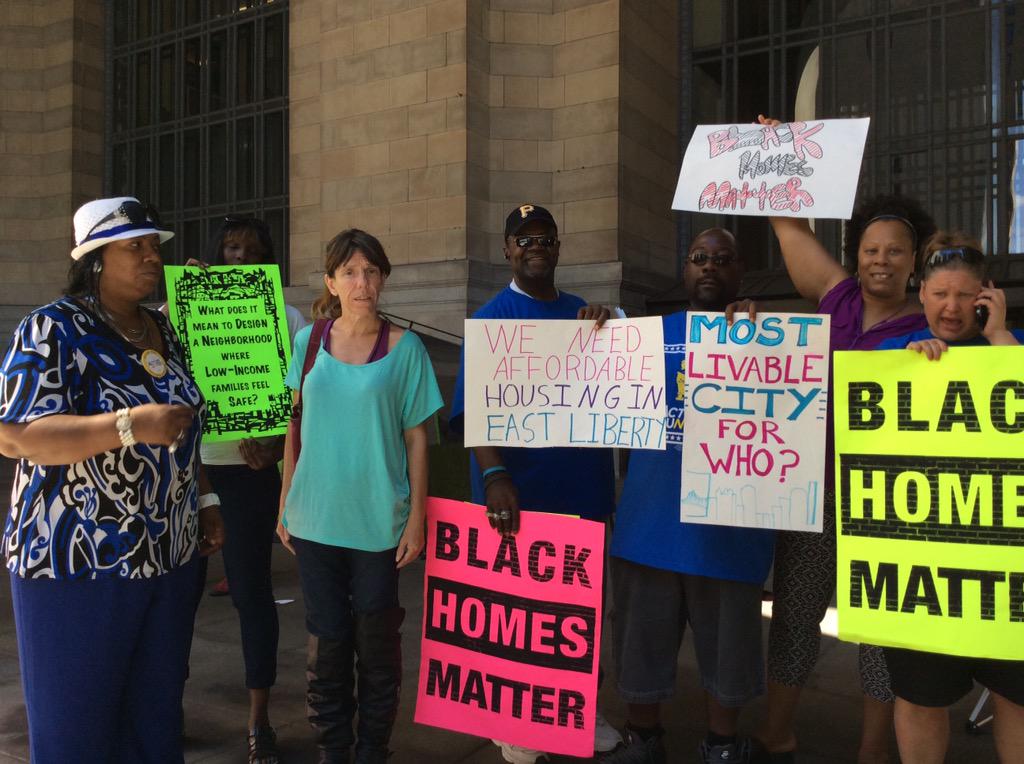 If you've been following the saga of our Penn Plaza brothers and sisters, you know what a long battle it has been. When Penn Plaza residents were given 90 day eviction notices, the low to moderate income families who lived there weren't sure how to stand up against it and feared they would lose their homes.
By organizing residents of Penn Plaza and others in Pittsburgh, we were able to come to the table with Mayor Bill Peduto and the Gumberg family to come to a solution that would support families that lived there. We lobbied local government and were able to put a stay on the notices for an additional 60 days, alleviating some of the anxiety of residents who had been living there for years.
In September we had another victory, as it was decided that Penn Plaza owners will now be required to pay $1,600 per apartment for residents living in 5704 Penn Ave. and residents of the building have until Feb. 28 to find new quarters. The company will also pay $800 per occupied unit at 5600 Penn Ave., and give residents until March 31, 2017 to move. This money will allow residents there with the capability to afford the cost of moving and will help them transition to new apartments.
What's even better is that through grassroots organizing, ACTION United along with our allies were able to change the conversation about affordable housing in Pittsburgh. The government has set up a fund to help out low income families and businesses by using tax revenues to rebuild the East Liberty section of Pittsburgh.
For more info on our victory, click here: http://triblive.com/news/adminpage/9172219-74/residents-east-penn#axzz3n3tpIMmw
Philadelphia
Rally in Center City to CapComcast
In September, we put major pressure on Comcast to commit to funding our broken education system, and to give back to the city who has helped them build their brand across America. Raking in an estimated $68.76 billion in revenue in just 2014 alone, Comcast has built it's empire off the back of Philadelphia.
Unfortunately, because of Philly's 10 year tax abatement, Comcast has not paid taxes on the construction of new buildings, including the massive Comcast Tower in Center City. In addition, we have allowed them to run lines underground, supported them through service as they maintain a virtual monopoly over the city, and have supported their expansion and growth all over the country.
Here's the reality: Our schools are still facing a massive budget deficit of $80 million dollars. Many computers in our schools are over 10 years old and don't provide the technology that's required to provide a meaningful education to our children. Out of 25 major cities, Philadelphia ranks 23 for internet accessibility, and in fact over 55% of Philadelphia lacks internet access which has become  crucial for finding a job. The program to provide internet for low-income people called Internet Essentials is a joke, creating barriers to entry that are so difficult, that only a tiny portion of low-income people actually have access to it. The fact is, Comcast does not care, and has never cared about the people, their only concern is profit.
On September 11th, we gathered and marched through Center City to hold Comcast accountable to the people who are helping them run their business.
For news coverage of our march, visit Philly.com: http://articles.philly.com/2015-09-13/news/66469669_1_comcast-center-franchise-deal-city-hall
#WhatRecovery Helps Keep Interests Rates Low by Pressuring the Fed in Washington D.C.
On September 17th, members of ACTION United along with our FED Up coalition headed down to Washington D.C. to lobby the Federal Reserve in order to keep interests rates low. The middle class in this country is being destroyed, and low interests rates allow a more stimulated economy by promoting small business and allowing them to thrive in our neighborhoods. In Philadelphia, we have thousands of small businesses that improve neighborhoods and promote our community by employing local residents and pumping tax revenues into the city.
While we were there, Janet Yellen, president of the national Federal Reserve proclaimed she would not be raising interests rates in order to allow our economy to fully recover. Through our months of ACTION we were able to affect national policy. Economists have said month after month that our economy is in a recovery, but the middle class and low income workers have been totally left out of the equation. A recovery for the top 10% doesn't mean that our national policies should punish average Americans in this country. We need to do a much better job at raising the incomes of low to moderate income people and reward working families instead of punishing them.
In October, we made strides to get the local Philadelphia Fed President, Patrick Harker, to come visit our neighborhoods and community based on his commitment. More on that in next month's newsletter.
For more information about the halt on interest rates, visit: http://fortune.com/2015/09/17/federal-reserve-announces-no-interest-rate-hikes-for-now/
For more info on WhatRecovery and FED up, go to http://WhatRecovery.org